About Our Used Car Dealership in Austin, TX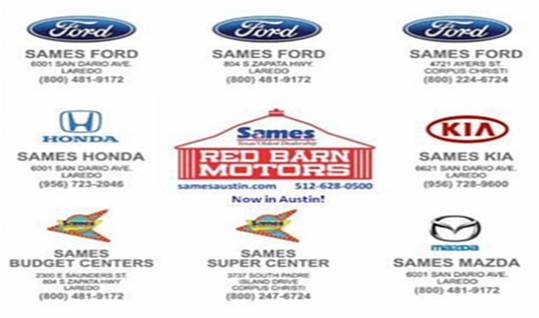 Sames Red Barn in Austin, TX, also serving San Marcos, TX and Killeen, TX is proud to be part of the Sames Auto Group (Since 1910 Officially Oldest dealer group in the State of Texas)

The group has multiple new car franchises and used automobile stores across the state.

In Laredo Texas we have one Ford dealership, one Mazda, one Kia and one Honda. In Corpus Christi we have one Ford dealership, in Kingsville Texas we just acquired a Ford and a Nissan dealership, we have one Ford dealership in Bastrop, Texas and just recently also acquired a Chrysler, Dodge, Jeep, Ram dealership as well in Bastrop.

The Sames Auto Group has been an automotive leader since 1910 and now has opened it's newest state of the art used car facility in South Austin.

With approved credit we can secure rates as low as 1.59% for up to 72 months; for people with challenged and/or bad credit we also offer the best in-house financing options.

At Sames Red Barn Motors we try to help everyone get approved regardless of credit situation. Whether you have bad credit, no credit, or are a first time car buyer, you can trust that we will try our best to get you approved.

Sames Red Barn Motors is Austin's premiere used automobile dealership, being that Sames Auto Group has multiple new and used car stores statewide.
Sames Red Barn Motors has access to over 1,000 used automobiles all times.
If you visit our website and see a vehicle that you would like that's in one of our other stores, just let us know, if the vehicle is available, we can bring to Austin and have here within 24 hours.
Sames Red Barn offers a full selection of services including:
Customer satisfaction is our highest priority, and our staff is committed to achieving this goal in every aspect of our business. Please feel free to reach us at (512) 628-0500 if you have any questions or comments.